In deze Bitcoin Focus kijken we naar bitcoin als digitaal geld. Steeds vaker wordt er een ontmoedigingsbeleid gevoerd rondom contant geld. Heeft dat ook gevolgen voor hoe jij je bitcoin kunt gebruiken?
Bitcoin doesn't fix this
Bitcoin is een digitale vervanger van het contant geld dat je al kent. Met een simpele mobiele wallet kun je een beetje digitale cash meenemen, waar je ook heen gaat. Als de lokale groenteboer BTC accepteert kun je er net als met je eurobiljet prima mee betalen. Het is wel aan te raden dat via het Lightning Netwerk te doen.
In Nederland is het aantal digitale transacties bijzonder hoog. Volgens Betaalverenging Nederland was slechts 20,5% van de transacties in 2021 met contant geld. Dat percentage daalt elk jaar.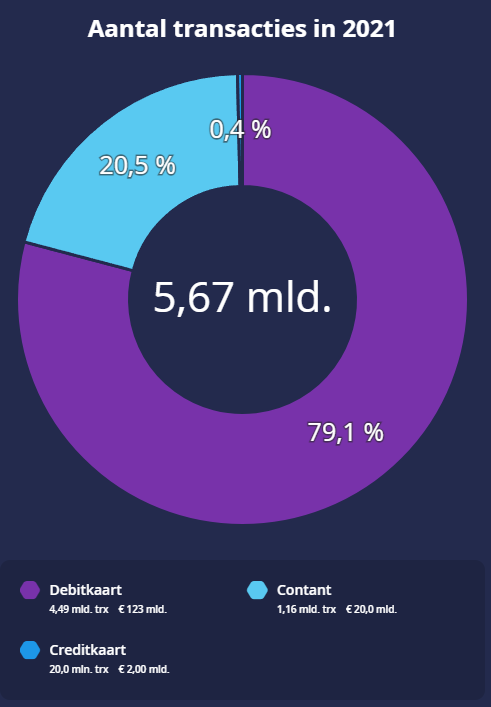 Een verblijf op een Franse camping of een willekeurige Duitse stad laat al snel zien dat we in Nederland wat dat betreft een stuk verder zijn. Daar is cash nog altijd koning. Je hoeft daar niet aan te komen met je pinpas, laat staan een bitcoin wallet.
Een bitcoin transactie vanaf je eigen adres is meer te vergelijken met een contante betaling. Je draagt direct jouw geld over aan bijvoorbeeld een groenteboer. Betaal je via een adres bij een beurs? Dan valt het meer in de debit- of creditkaart categorie.
Minder contant betalen
De trend wereldwijd is helder: er wordt minder met contant geld betaald. We zien ook een beweging naar het ontmoedigen van contante betalingen. Een goed voorbeeld daarvan zagen we deze week in Israël.
Per 1 augustus geldt er een limiet tot enkele duizenden Israëlische sjekel (NIS) op contante betalingen. Particulieren en bedrijven krijgen te maken met deze grens. De standaard redenaties komen voorbij: criminaliteit, witwassen en meer van zulke zaken moeten hiermee een halt toe worden geroepen.
Het is een poging om grip te krijgen op geldstromen in het land.
Ook in Nederland zien we deze trend. Contante betalingen boven de grens van 3.000 euro zijn verboden. De meldplicht voor grote transacties wordt vervangen door een limiet.
Een kleine nuance: het verbod op contante transacties geldt niet voor een particulier die iets wil verkopen op Marktplaats. De focus ligt met name op winkeliers en bijvoorbeeld garages.
Met contant geld kun je er voor kiezen om een stuk anoniemer je betalingen te doen. Die keuze wordt, langzaam maar zeker, kleiner.
Je kunt dit nieuws zien als goed nieuws voor bitcoin. Het is immers een vrij en open geldnetwerk, toch?
Je kunt dit complete premium artikel lezen als losse oplage via de bitcoin pay-per-view knop.