Bitcoin: het is een spaarmiddel en betaalmiddel. Over het algemeen gaat het vooral om die eerste eigenschap, in combinatie met de prijs en de koersontwikkelingen. Maar hoe zit het met het uitgeefgedrag van de Nederlandse bitcoiners? Tijd voor een onderzoek!
Afgelopen week was ik bij de Zwolle Bitcoinstad-meetup, waarbij ik mijn biertjes en hamburger kon afrekenen via lightning. Bij Meneer Jan betaalde ik vanaf mijn Phoenix-wallet de 134.000 sats, die zijn ontvangen met de Bitkassa-software. Voor mij niets nieuws: afgelopen jaren spendeerde ik veel tijd in El Salvador en bijvoorbeeld ook op Bitcoin Island op de Filipijnen.
In het 'land van de verlosser' heb ik in mei jongstleden nog 60 aankopen gedaan met lightning en in december 2022 in Boracay ruim 30 bitcoinbetalingen. Maar hoe zit het in ons eigen land?
Voor veel Nederlandse bitcoiners blijft betalen met bitcoin doorgaans nog altijd een unieke gewaarwording.
Enquête
We roepen je op om een enquête in te vullen over jouw uitgeefgedrag. Binnenkort komen we dan bij jou terug met een leuke samenvatting, waarin ongetwijfeld ook de nodige uitdagingen voor bitcoin naar voren komen.
De kernvraag: wat is de bereidheid van de gemiddelde bitcoiner om zijn bitcoin uit te geven? Het invullen duurt slechts een aantal minuten.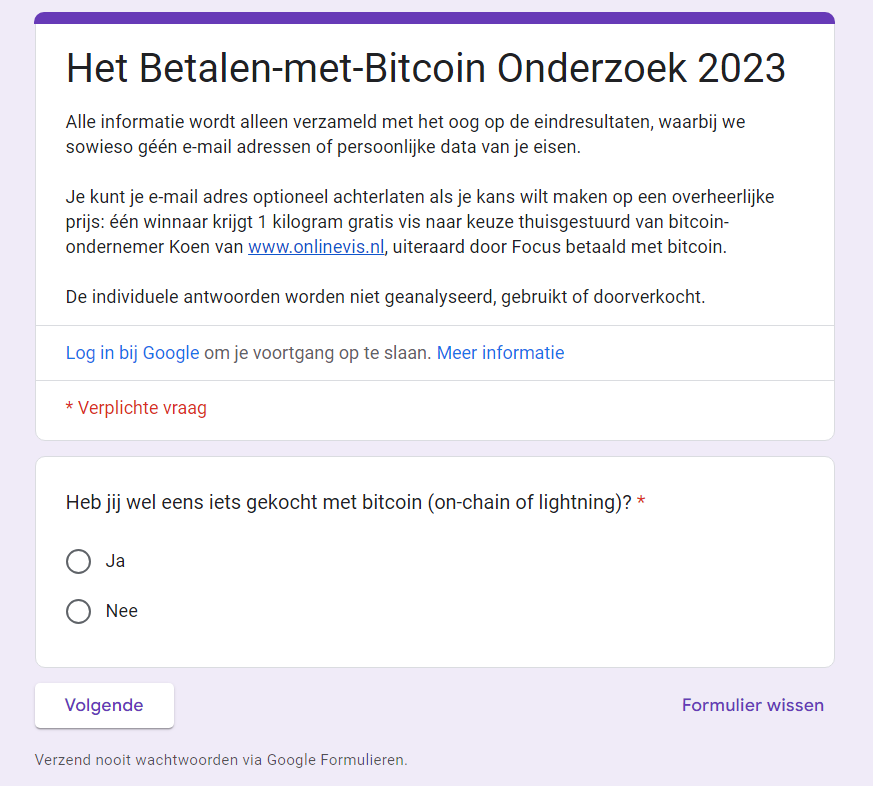 Klik hier om de steekproef in te vullen en ons te helpen om een goed beeld te kunnen schetsen.


Alle informatie wordt alleen verzameld met het oog op de eindresultaten, waarbij we sowieso géén e-mail adressen of persoonlijke data van je eisen. Je kunt je e-mailadres optioneel achterlaten als je kans wilt maken op een heerlijke prijs.
Prijs
Onder degenen die de enquête invullen, loten we één winnaar. De winnaar krijgt gratis 1 kilogram vis naar keuze toegestuurd, besteld met lightning bij één van de bitcoinaccepterende ondernemers van Nederland, Koen Dil van onlinevis.nl.
Zoek je meer inspiratie? Lees dan deze open (!) Focus-editie over Arnhem Bitcoinstad, bekijk onze documentaire over Bitcoin Island, scroll eens rond op btcmap.org of check bijvoorbeeld onze nieuwe doneerpagina.